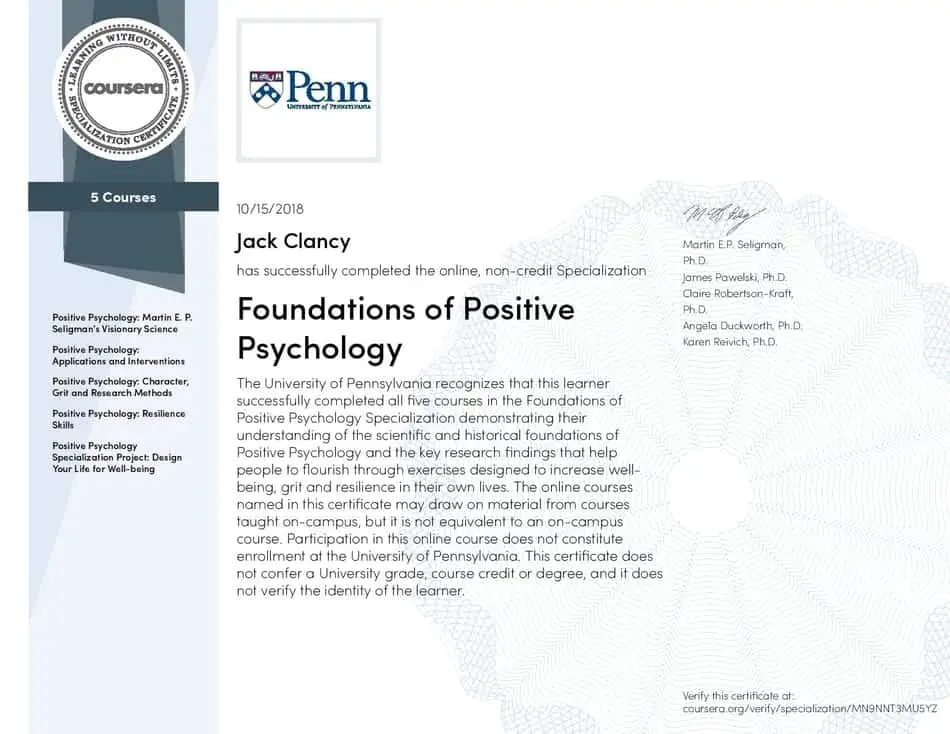 I have completed six specializations on Coursera. That's a total of 33 individual courses. I learned much and thoroughly enjoyed the experience on this learning platform. I paid to receive the Coursera verified certificates for each of these specializations and their included courses.
I ask myself now, in retrospect, was it worth paying for the verified certificates, or would it have been better to audit the specializations and courses for free?
If the goal is strictly to learn and you are on a budget, the added benefits of paying for a Coursera Verified Certificate are nice, but unnecessary. Audit the course and learn for free. That said, paying does lead to 10x higher course completion rates, allows for deeper engagement with the material, and cheaply supports the platform.
I do not regret paying for my specializations. The learning I received, from the top minds that I studied under, from top universities around the world, and the enjoyment I received along the way was worth every penny. And compared to traditional university courses, they did cost pennies-on-the-dollar.
The specializations that I completed were:
Investment Management – University of Geneva (5 Courses)
Financial Management – University of Illinois at Urbana-Champaign (7 Courses)
Digital Marketing – University of Illinois at Urbana-Champaign (7 Courses)
Business and Financial Modeling – University of Pennsylvania (5 Courses)
Pricing Strategy Optimization – University of Virginia & BCG (4 Courses)
Foundations of Positive Psychology – University of Pennsylvania (5 Courses)
Looking back on it, my goals were to learn new things and expand my mind, not career advancement. I could have learned just as much auditing all of the courses and kept my money. Yet, if I were to do it all over again, I would still pay.
I hope these sections help you to understand why:
What is Coursera?
What is the Verified Certificate?
Registration and Certificate Options
So, Why Are They Worth the Cost?
Related Questions
What is Coursera?
Coursera was founded by Professors Daphne Koller and Andrew Ng from Stanford University in 2012. They uploaded their computer science courses online and quickly realized that they could teach more people this way than strictly in a classroom.
Coursera was born, and it has grown quite a bit since then. As of publishing this article, Coursera has:
35,000,000+ Learners
2700+ Courses
250+ Specializations
150+ University Partners
4+ Degrees
Its courses are MOOCs, or a Massive Open Online Courses. They are distance-learning courses that anyone who registers can take online. Top universities from around the world offer courses on pretty much every subject, and thousands of people can register for each course at the same time. Pretty awesome!
What is the Verified Certificate?
According to Coursera itself, the verified course certificates are an official Coursera credential confirming your successful completion of a course or specialization.
They include:
Name of the completed course or specialization
Signature of the instructor
Logo of the partner institution that offered the course or specialization
Verification URL so that others might confirm the authenticity of the certificate
Identity confirmation of the person who completed the course
They do not include:
Academic credit
Final grade
Photo ID
Hours spent on the course or specialization
Printed or mailed versions of the certificate. Downloads only, which you can print on your own.
No additional information can be provided by Coursera on these certificates
Registration and Certificate Options
After registering for a Coursera account, you will have a world of study options available to you. Once you find a course or a specialization that you are interested in signing up for, you will usually be given a week of free study to try it out before committing. That's nice!
After your free trial week is completed, you can continue in one-of-two ways:
Audit the Course for Free
The beautiful part about Coursera and other MOOCs is that you are not always required to pay to learn. You may have the option of auditing the course for free. If you choose this option, the following will apply on Coursera:
You will have access to all of the study material: video and readings, where applicable
You will not be able to submit assignments or exams.
You will not get feedback on your learning progress.
You will not receive a verified certificate upon completion.
Pay for a Certificate
You will also be presented with a paid version. Prices vary, but you can expect to see the following:
Courses: between $29-$99 per course
Specializations: between $39-$79 per month you remain enrolled in the specialization
And what do you get for paying?
You will have access to all course material
You will have access to all graded assignments
You may have access to forums and support groups, if applicable
You will receive an electronic, verified certificate upon completion. It's printable and you can add it to your LinkedIn account and put it on your resume.
Specializations are a great way to deepen your knowledge in a specific area of study. According to Coursera's timeline, each course in the specialization can take 4-6 weeks or longer to complete. Depending on the number of courses in the specialization, it can take many months to complete. That can add up to a lot of money.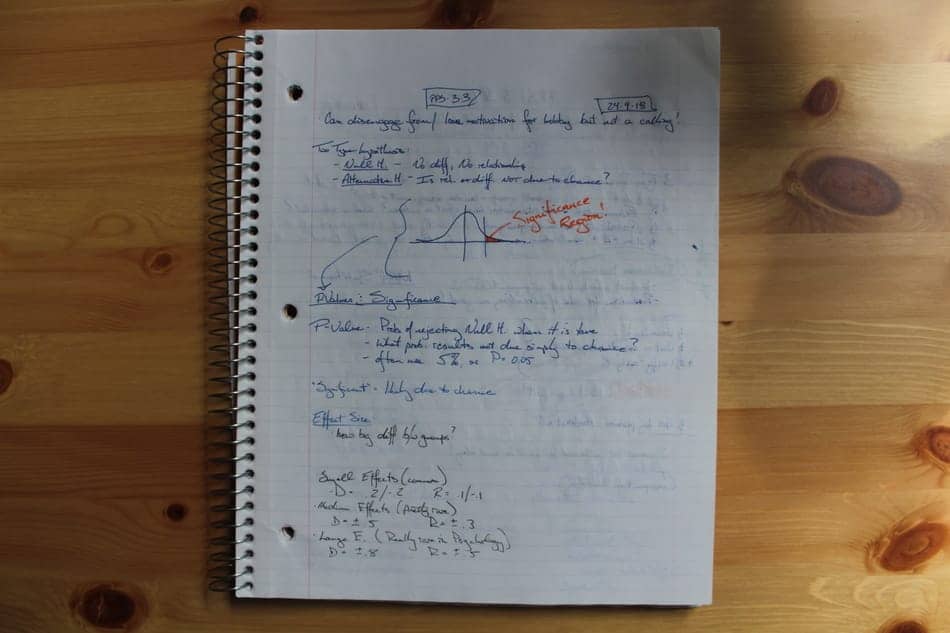 MONEY SAVING TIP: You can drastically reduce the cost-per-course by doing a specialization and finishing it faster than the recommended timeline! I studied obsessively and was able to finish my specializations in a fraction of the time. This meant I spent a fraction of the money. Consider the following to help you speed up your learning:
Listen to the audio on 2x speed! You will finish twice as fast! You can always go back and re-watch at normal speed if you need to.
Take notes! Take your learning seriously. Having good notes will speed up your graded assignments and project deliverables as you will not have to re-watch all of the videos to find the information you are looking for.  
Keep advancing through the material! For the specialization certificates, sometimes you have to wait for peers to grade your assignments. Don't stop learning just because you have to wait. Keep progressing through the courses and lessons. Submit your assignments as fast as possible. The faster you finish it all, the less you pay for specializations. This does not apply for once-off, individual course payments.  
So, Why Are They Worth the Cost?
In a nutshell, the verified certificates prove that it was really you who completed the courses and/or specializations, and that you passed all of the requirements for doing so. This helps to legitimize your certificate.
Additionally, paying for the verified certificate has the following benefits, of which I see great value:
1. Increasingly Recognized by Employers
The Edukatico website reports that multinational companies do recognize online course certificates as valuable by employers. Edukatico contacted some of these companies directly, and they found out that:
Most recruiters know about MOOCs, and they are becoming increasingly well-known.
If the certificate is relevant to the job, it can be an advantage to the applicant.
Completing online courses shows personal commitment, which recruiters recognize.
2. Higher Completion Rates
Research has shown that people who pay for a verified certificate are much more likely to complete their courses and specializations than those who audit them. Harvard and MIT completed a two-year study on MOOCs. In this study, they concluded the following:
5%: completion rate for non-paying learners
59%: completion rate for paying learners who will receive a verified certificate
Download and read the full article with this link.
What a pity it is to not see your learning all the way through to the end. If paying a small fee means you are more likely to complete a course or specialization, it is well worth the cost. Assuming you are interested in this material, your future self will be more pleased with the knowledge gained than with a few pennies pinched.
3. Deeper Engagement
As a paying learner, you will complete more assignments and engage more deeply with the material than your non-paying, auditing counterparts. For those who are truly interested in learning more about your chosen field of study, this is invaluable.
I was also included in forums specific to my specialization and the other learners in it. It was a great networking resource, as well as a source to discuss the course material and clarify anything which I was unsure of. Fellow learners would share helpful resources, which made the learning more enjoyable and complete.
4. Support Free Learning
Coursera, along with all of the other MOOCs, offer so much free learning to the world. Without financing and monetization, however, these free resources may begin to disappear. Should you have the means to do so, what better way to support continued free learning for all then to pay a little money? Besides, it's a pretty cheap price compared to traditional education, and you get all of the benefits mentioned above as well.  
Related Questions
What other MOOC platforms are there aside from Coursera? I really enjoyed learning on Coursera, but it is not the only MOOC platform available. Years ago, I took a free course on Open 2 Study, but unfortunately, their free course catalog is no longer available. Instead, you can try any of these platforms for free and paid online learning:
This is just a small list of all of the available options. Read this Reviews article for a very comprehensive review of MOOCs.
Is financial aid available on Coursera? Yes, they do offer a financial aid program for registered users. For those who want/need, but cannot afford, to pay the full course and/or specialization fees you can apply for financial aid through the Coursera platform. I researched forums and discovered that uses do, in fact, receive financial aid, so it is not a scam by any means.