Online courses are an amazing way to leverage the power of the internet to learn new skills. The information is quality, the accessibility is incredible, and the price is normally much cheaper than studying at an actual school.
I have purchased and HIGHLY Recommend the following online courses:
---
Project 24 by Income School
---
This is one of the best courses I have ever taken in my life. I absolutely love it! I have learned more binge-studying Project 24 than I did at university. Sad, but true.
Coarse Goal: To create a niche website that will generate a full-time income in 24 months to replace your current income.
Who It's For: This course is excellent for beginner, intermediate, and even experienced bloggers. As a beginner blogger, the course led me step-by-step (literally, there are 60 steps to follow in order) on what I need to do to develop Fat, Broke and Stupid. This website would not exist as it does today without this course.
What You'll Learn: Among other things, the Project 24 Course includes:
60 Steps, in a specific order, to develop an excellent niche website
Lessons on how to find a profitable niche and begin your journey
Training on how to write the most helpful blog posts that will actually rank on Google
In-depth coaching on their unique, and effective, keyword search analysis process
A full course on training other writers so that you can outsource your writing
Courses on how to optimally leverage YouTube and Pinterest
Access to a community forum which is outstanding. The creators, Jim and Ricky, are active in the community, too
Free subscription to the stupid-fast WordPress theme, Acabado, which Jim and Ricky developed to have an excellent page speed. I use it on my 2nd website and it's great
Jim and Ricky share unprecedented access to their niche websites, including information that most business owners would never share with potential competitors
A weekly podcast with up-to-date information
Their courses are regularly updated as things continue to evolve in the blogging world
So, so much more…
Coarse Price: Currently $449 for the first year. The price currently reduces to $199 for all subsequent annual subscriptions. I say currently because due to high enrollment, Jim and Ricky have already raised the price once to keep the community small enough to provide excellent service to everyone enrolled.
Project 24 is truly an exceptional course. If you are a blogger, or interested in earning a full-time income through blogging, I know of now better resources available online. Despite being a pretty frugal man, I am extremely satisfied with this purchase and would buy it again in a heartbeat.
Click this link to go to the website and learn more about Project 24 by Jim and Ricky of Income School.
---
Coursera Courses
---
I love learning on Coursera! It's such an amazing learning resource.
Coursera was founded by Professors Daphne Koller and Andrew Ng from Stanford University in 2012. They uploaded their computer science courses online and quickly realized that they could teach more people this way than strictly in a classroom.
Its courses are MOOCs, or a Massive Open Online Courses. They are distance-learning courses that anyone who registers can take online. Top universities from around the world offer courses on pretty much every subject, and thousands of people can register for each course at the same time. Pretty awesome!
Personally, I have completed six specializations, totaling 33 unique courses, on Coursera. They are:
Investment Management – University of Geneva (5 Courses)
Financial Management – University of Illinois at Urbana-Champaign (7 Courses)
Digital Marketing – University of Illinois at Urbana-Champaign (7 Courses)
Business and Financial Modeling – University of Pennsylvania (5 Courses)
Pricing Strategy Optimization – University of Virginia & BCG (4 Courses)
Foundations of Positive Psychology – University of Pennsylvania (5 Courses)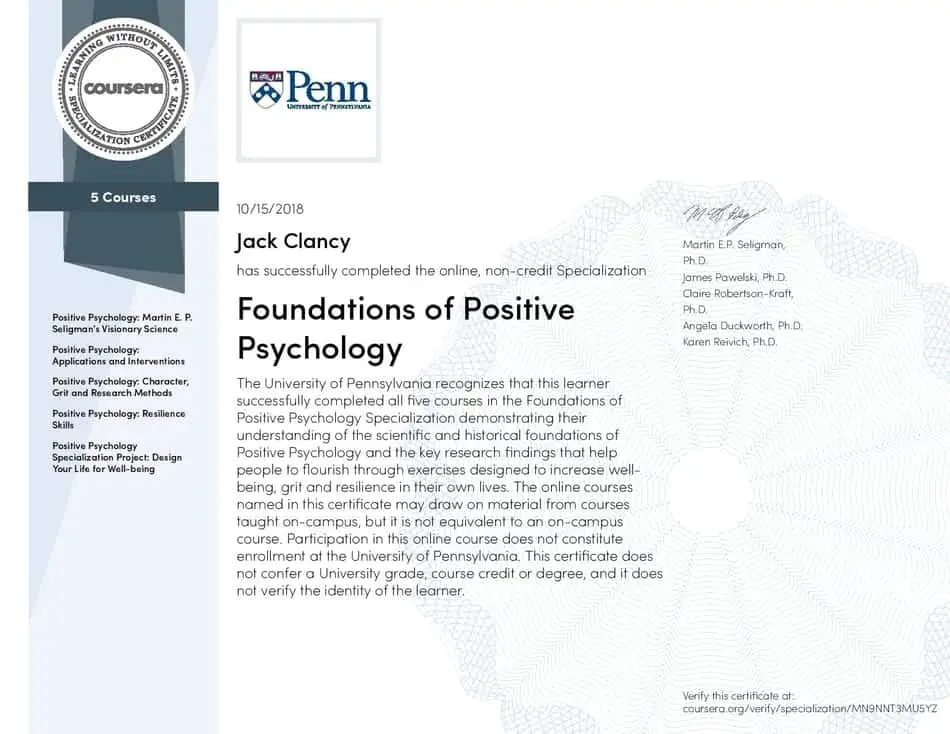 The best part is, you can audit Coursera courses for free! You can also choose to pay for a verified course certificate. If you opt for the certificates, you can expect to pay:
Courses: between $29-$99 per course
Specializations: between $39-$79 per month you remain enrolled in the specialization
I chose to pay for my certificates and I do not regret it one bit. I wrote a full blog article detailing why it is worth paying for the verified course certificate. You can read the full article by clicking this link.
I highly recommend taking courses on Coursera. It's a fantastic platform with a world of amazing information at your fingertips. If you are interested in exploring its offered courses, head over to their website and see what topics pique your interest.