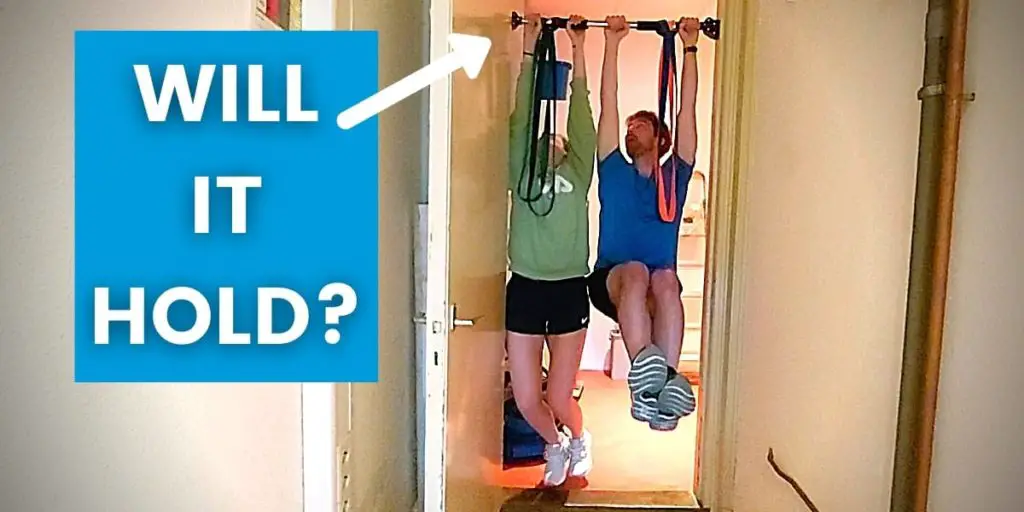 Is the Evolve Over Anti-Gravity, Heavy-Duty Doorway Pull Up Bar any good? They claim on their website to be the Safest Pull Up Bar In The World, but can it really be true?
I got my hands on one and thoroughly tested it out. I looked at safety, ease of installation, possible damage to door frames and paint, and actively sought out problems in an effort to fill the CONS list with as many bullet points as I could. This is what I found:
Key Takeaways from the Evolve Over Pull Up Bar
Let's get straight to the good stuff…
Things I Loved:
Felt safe and secure while training
Held 333 lbs. (151.2 kg.) without issue
No damage to my door frame
No paint damage
Portable: ideal for travel, or indoor-vs-outdoor training
Multifunctional: you can do more than just pull ups with it
Can adjust height position of bar
Fast readjustments between exercises
Fast disassembly
Easy to store
Ready to go out of the box
Sleek and sturdy design
Interesting technology
Things I Did Not Love:
It took a while to set it up properly the first time I tried. 
One of the nuts on one of the security clamps fell off twice while I was setting up the device in my door frame. (NOTE: It was not a structural defect, just a little annoying and time consuming to put it back together.)
The possibility of property damage exists if set up carelessly
I must say, the Evolve Over Pull Up Bar held up to my scrutiny and I am very happy with it. I plan on using it regularly as part of my pull up training moving forward. 
I highly recommend it to anyone considering buying a doorway pull up bar. 
But you should also know…
Why I Was NOT Excited to Try the Evolve Over Pull Up Bar… At First!
I'm very fortunate: Evolve Over reached out to me and offered to send me their anti-gravity doorway pull-up bar for free to test out and review because they saw on my YouTube channel that I am working on my pull ups this year. 
This may come as a surprise, but I was NOT excited about this… at first! 
I did not want to feel compelled to write a positive review to reciprocate receiving free exercise equipment. The Evolve Over team told me that I could say whatever I wanted about the product.
With that agreed upon, I actively searched for problems like a detective. Let's start with the CONS I found:
Are There Any CONS to the Evolve Over Pull Up Bar?
You can't have the good without the bad. In fact, I would be sceptical of any product that had absolutely no negatives associated with it. It would seem too good to be true. 
Before talking about the pros, here are some things I did not love about the product:
Tricky To Set Up the First Time: It took 9 minutes and 30 seconds to properly and safely install the pull up bar for the first time. Despite watching the installation tutorial video and reading the instruction manual, it still took some trial and error. This got better with time, and the second time I set it up it only took about 5 minutes. This will get significantly faster with more practice. Don't let the first set up deter you. 
A Nut Fell Off… Twice: Attached to the pull up bar are two clamping devices, one on each side. The final installation step requires clamping the bar in place to ensure it does not move during use. The first time I got to this step, the nut on the right clamp fell off and I had to reassemble it. This happened during my second installation, too. This is NOT a device defect, but it was a little annoying to have to put it back together and lose some time in the process. It undoubtedly happened because I was hitting the nut with my hand while learning how to properly rotate the device to lengthen and shorten it. I'm not worried about this, but just wanted to give you a heads up. 
And quite honestly, those are the only nuisances I experienced, and I'm not even worried about them.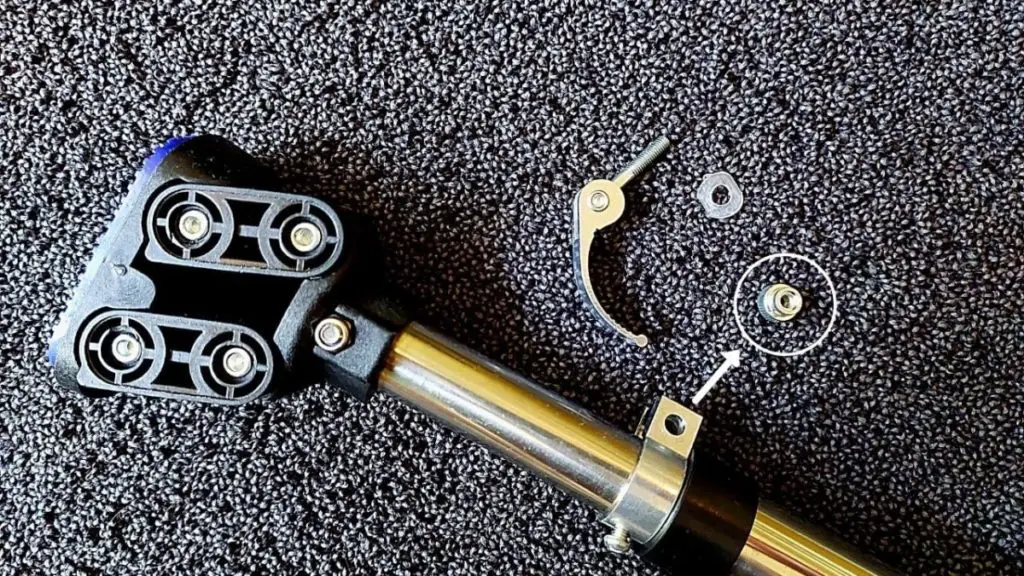 Perhaps the only other thing worth mentioning here is something that could happen, but did not to me:
It COULD Cause Property Damage: Note that the pull up bar did NOT damage my door frame, chip my paint, or leave any marks. Great! But it could if you set it up on unsupported drywall or weak door frames. In fairness to the company, they are very clear about this in their literature and on their website. They even asked me point-blankly if I had an appropriate location to set up the device before they sent it to me. They seem to take safety seriously, which I appreciate. Please do the same if you buy it for yourself, too. 
In General: Is the Evolve Over Pull Up Bar Safe?
It's a bold claim to say that any pull up bar is the Safest Pull Up Bar In The World! The sceptic in me was screaming at their use of the superlative. But my experience says: 
The Evolve Over Doorway Pull Up Bar is safe for people and property. It supported two people doing pull ups at the same time with a combined weight of 333 lbs. (151.2 kg.) without issue. It left absolutely no damage to my door frame. 
So far, so good. I give it a double thumbs up for safety and I am a believer. 
How Long Does It Take to Install the Evolve Over Pull Up Bar?
I used my stopwatch to measure how long it took to install and reposition the pull up bar. Here are the results: 
| | |
| --- | --- |
| Type of Installation | Time |
| Install for the 1st time | 9 minutes and 30 seconds |
| Install for the 2nd time | 5 minutes |
| Reposition between exercises | 1 minute |
| Take off the door frame  | 15 seconds |
As mentioned above in the CONS section, the first installation took a little trial and error. Additionally, one of the nuts fell off which I had to reassemble, wasting time in the process. 
The second attempt was much faster, but again the nut fell off and I wasted time getting it back in place. 
That being said, it got much easier with practice, and I suspect to be able to install it within about a minute or two moving forward. Awesome! 
I was also very pleased at how fast and easy it was to reposition the bar up-and-down the door frame in between sets of varying exercises. It only took 1 minute, which is ideal to do during your rest period between exercises without losing your flow. 
And yeah, it's super easy to take off the door frame once finished with it. 
How Much Weight Can the Evolve Over Pull Up Bar REALLY Hold?
Of course, I had to have some fun with this, so I got my girlfriend to do some pull ups with me at the same time to see just how strong the pull up really is. Did we fall?
The Evolve Over Pull Up Bar can support a maximum weight of 440 lbs. (220 kgs.). I tested it with two people at the same time at a combined weight of 333 lbs. (151.2 kg.) and it worked perfectly. 
It really is a strong and sturdy device. In fact, my first reaction was surprise at how heavy it is. Out of curiosity, I weighed it and saw that it weighs 2.4 kg. (5.28 lbs.). Strong stuff.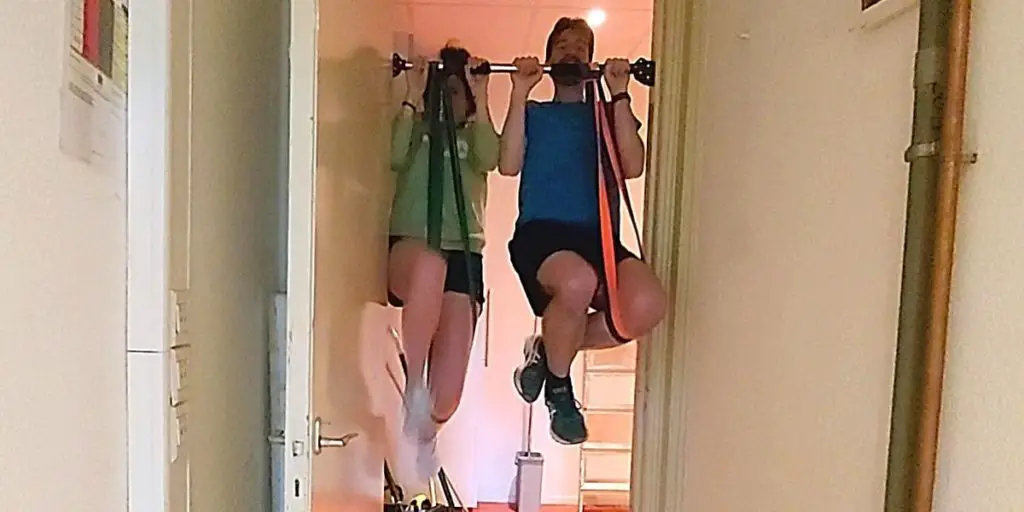 Does the Evolve Over Pull Up Bar Damage Your Door Frames?
This is perhaps the most common question I have seen from people asking about the pull up bar online. Therefore, I paid extra special attention to this while using it. 
The Evolve Over Pull Up Bar did not damage my door frame while using it. It left no marks nor indentations in the wood or paint. If you install on solid opposing surfaces it will work well. It could cause damage if used on unsupported drywall or weak door frames. 
The mechanism of the pullup bar does put some stress on the walls/door frame where it is installed. That's just how the physics of the device works. It's quite clever, actually! 
Still, the company itself generally recommends that it is mounted on a solid wall (not on drywall) or a rather solid door frame. This will ensure that it leaves no damage to your property, and I'm happy to say that my experience corroborates their claim. 
What Evolve Over Pull Up Bar Exercises Are There Besides Pull Ups?
When you think of pull up bars, you probably instantly think of doing pull ups and chin ups, maybe even some abs training through leg raises, but there is so much more that you can do with a pull up bar. 
I would list out all of the exercises myself, but another YouTuber by the name of Shredded Dad's Garage Gym already did a very nice job of demonstrating exercises that can be done with the Evolve Over Doorway Pull Up Bar with and without additional equipment. 
Watch it here to get informed and inspired: 
How Much Does the Evolve Over Pull Up Bar Cost?
I hesitate to answer this as the price could always change over time, but as of writing this article on June 1, 2021, the price for the Evolve Over Pull Up Bar is $109.95. 
The $109.95 price includes a 40% discount, and the original price was actually $183.25!
I'll be honest when I say that I personally rarely buy things in the $200 range, but then again I'm pretty frugal. 
$109.95, however, seems very reasonable to me given the quality of the product and the experience I had with it. And considering all of the other health and fitness pros that come with this device, I would buy it for $109.95. 
And here's the best part…
Is There A Discount Code for the Evolve Over Pull Up Bar?
The Evolve Over team was very generous to offer me a 10% Discount Code for all of my blog readers and YouTube viewers. 
Use the discount code jackclancy10 to receive a 10% discount on your Evolve Over Pull Up Bar purchase. 
(Please note that I also receive a commission from Evolve Over for each sale that uses my discount code.)
I see this as a win-win-win situation:
Evolve Over gets a sale
My work gets supported and I can spend more time making new health and fitness content
You save money on an awesome pull up bar
Who Should Buy the Evolve Over Pull Up Bar?
I found the Evolve Over Pull Up Bar to be ideal for people of varying health and fitness experience and goals. For example: 
Someone who would like to train to do their first pull up
Beginners (like me) looking to improve their pull ups at home
People who enjoy total-body calisthenics training at home (it's multi-functional)
People who like to train while travelling (it's portable)
Let's be honest, that's probably 90% of the population! (NOTE: 87% of statistics are made up.)
If your goal is to buy a piece of home gym equipment that is:
Safe
Ready to go out-of-the-box
Drill and screw free
Does not damage property
Multifunctional
Portable
Easily storable
Reasonably priced
Then I highly, and honestly, think that the Evolve Over Doorway Pull Up Bar would be a great match for you.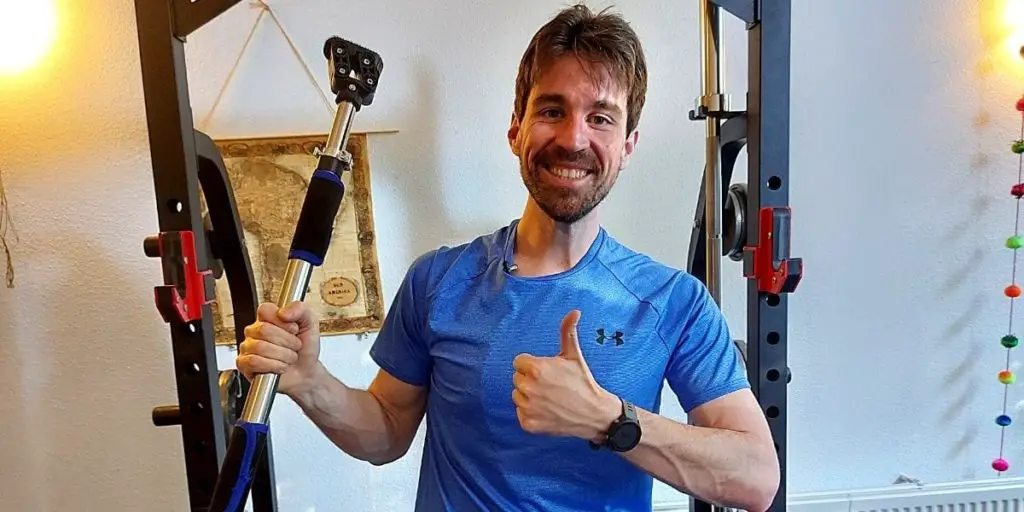 Regardless of whether you buy it or not, I sincerely wish you all the best on your health and fitness journey.