Towards the end of his book, Busy: How to Thrive in a World of Too Much, Tony Crabbe reveals that the real reason he delayed writing and finishing this book was fear.
"I had a big fear, an unspoken fear, which was fighting against any moves I might make to write. I was scared I might have nothing to say."

-Tony Crabbe, on why he delayed writing this book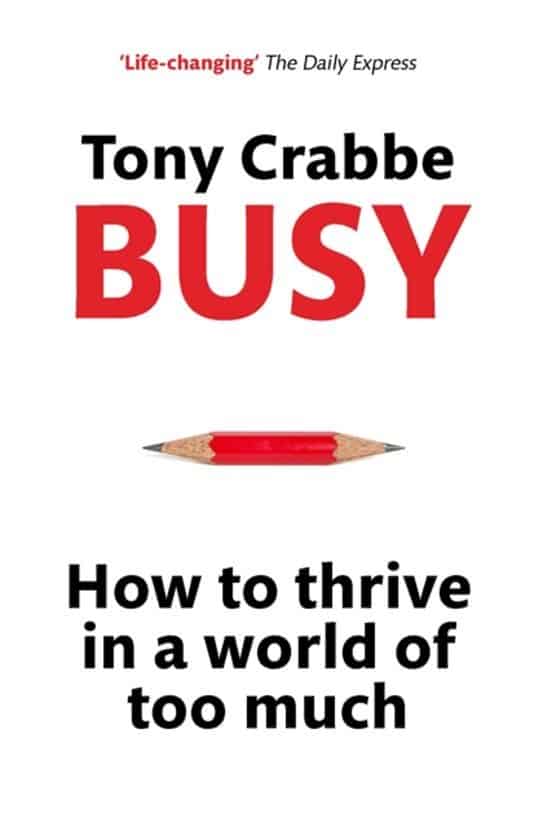 Well, Mr. Crabbe, I am delighted to say that you did have something to say, and that it was powerful. It certainly struck a chord with me. I have read many books, and I found this one to be one of the more transformative and enlightening of them all; so-much-so that I have decided to make Busy the first book that I review, discuss and recommend on this website!
YouTube
Check out my YouTube video summary of the key points in this book, too!
Before we dig deeper, let's define "busy" as Tony does:
"Busy is that frenetic, always alert multitasking that propels us through overburdened lives. It involves being always "on," glancing regularly at our phones and jumping from task to task. It is the juggling, cramming and rushing that makes up most of our existence. It is urgency, distraction and exhaustion."

-Tony Crabbe, on his definition of "busy"
The next logical question is: Why are we busy?
According to Tony, we are busy because:
It is easy to be busy. It is difficult to make tough choices, to consciously do less, and to do it more deeply.
Being busy allows us to avoid doing the challenging things that will really make a difference in our lives. Given the choice between easy and challenging, we will often choose easy.
People have branded themselves as busy. It is their way of attempting to show others how valuable and important they are.
People have become addicted to the delightful chemical substances released during busy-work.
People are busy because other people are busy. Monkey see, monkey do. 
Now we have a base to work from. We have too much work, social engagements, messages to respond to, responsibilities, competition, etc. and we cannot possibly manage all of it.
Speaking for myself, I have often felt "busy". It specifically makes me think of a management position I held where I constantly felt like I was being busy, yet simultaneously felt unsure about how much progress I was making on my most important tasks. In retrospect, I probably (definitely) would have had greater success with less work by having focused more on the impactful work, making tougher choices, and doing less. In doing so, I suspect that I would have had more time for myself while also making more impact and having a deeper feeling of joy and satisfaction from the work.
Lesson learned!
So, how can you avoid being "busy"? Tony breaks it down into three areas to focus on:
Mastery
Differentiation
Engagement
I offer you somewhat of a summary of these sections based on my experiences with them and how I have been trying to implement them in my life. Everything that follows is based directly on the book. I give Tony and his book Busy 100% of the credit for any good ideas you pick up from it:
MASTERY
"We should aim to gain a sense of mastery in our lives by letting go of our need for control, by making brutal choices, by managing our attention and negotiating our life back."

-Tony Crabbe, on mastery
Chapter 1: Stop Managing Your Time!
I used to think that if I could just manage my time better that I would get more done and be happier. It hasn't worked for me yet, because this doesn't work! I have too much on my plate already. Improved time management just makes me even busier and less happy. Instead, I have been focusing more on doing what will make real impact and joy in my life, and less on external distractions. This has been especially helpful in making progress on developing this website and feeling a sense of satisfaction and contribution each and every day.
Chapter 2: Make Choices
I historically take on too much at a time. Too much work, too many social engagements, too many hobbies and pet projects, etc.… I used to accept this as a part of who I am, so I stayed busy. The problem is, I never felt I made any genuine progress on what was really important to me. Instead, I need to make tough choices about what I do and when I do it. Setting specific boundaries has helped immensely in this area already for me.
Chapter 3: Manage Attention
"Our effectiveness and our happiness are both entirely dependent on our ability to be focused and present. For this reason, it is much more important to manage your attention than your time." WOW! Instinctually, I think I have always known this. I always feel happier when I can focus deeply on one thing at a time without multitasking. Now, I make sure to have chunks of time to dedicate specifically to one important task, usually in the early morning. I work hard, then take a break and recharge. When I feel overwhelmed with the scope of a project that I am working on I stop, take a moment, make a quick plan, and then get back to it. I also make sure to unfocus my attention, and stepping outside for a moment is a nice way to do that. I also like movement of any type. Still, I can improve in these areas, perhaps with more walks at the local parks and gardens.
Chapter 4: Negotiate for Your Life
A big step for me was to clearly identify what my core needs actually are. For example, I occasionally need to have large chunks of "Jack-time" so that I can dig really deep into my most important tasks. With that, I can form creative agreements with the most important people in my life which are win-win for everyone. It has also been helpful to get more comfortable saying "No!" and learning more about the various types of "No!" that exist. It's a work in progress, but it's helping.
DIFFERENTIATION
"Corporate strategy explains why we need to shift our focus from getting things done to making an impact, and how, in an information economy, we will only succeed if we differentiate ourselves."

-Tony Crabbe, on differentiation
Chapter 5: Stop Being So Productive!
Much of my previous professional success came from out-working the competition. That works for a while, but stalls as you begin competing with other hard-workers. I still work hard, but I am trying to work with a strategic focus. I have limited resources. In fact, right now I am my only resource, so I need to use myself and my time well. This website has a long-term vision, and the work I am currently doing on it has been greatly influenced by the lessons in this chapter. Specifically, I hope to provide value in a unique way while focusing on my strengths and the things I enjoy doing. I am also making tough choices by choosing not to work on other projects. My hope it that by focusing on fewer, more important projects that I will achieve my goals without sacrificing myself to them.
Chapter 6: Impact Through Innovation
Being able to consistently innovate is a huge advantage in today's fast-paced lifestyle. Innovation starts with a decision, the decision to be creative! I used to think of myself as uncreative, a workhorse whose skillset lent itself more towards excellently completing tasks other people created. What a bunch of baloney! Being creative is a choice. What's more, it is a verb. It is something you chose to do. In the last 2-3 weeks alone, my creative juices have surprised even myself. I'm actually overwhelmed at the amount of unique ideas I have been coming up with, and the more I exercise this skill the more natural it is becoming. Now it is just a matter of experimenting with these ideas, keeping the ones that work, and continuing to tinker with them. I will admit, I am very excited to see what comes from all of this.
Chapter 7: Busy Is a Terrible Brand
Brands are powerful. They influence us and help form our decisions and actions. We all have a brand. It's the image we share with the world through our words and actions. Whether you want to or not, it is important to manage your brand. Keeping it clear and simple. It should describe you when you are at your best. I spent time going through the exercises in this chapter and I now have a working draft of my "brand hypotheses" which I will toy with for a while. Once I have something which works for me, I will live my brand through my actions. Heads up, my brand is definitely NOT "busy"!
Chapter 8: Walk Your Own Path
I feel like I have been saying the same thing to myself for the last 11 years about my goals; despite this, to this day I have still failed at truly achieving them. The funny thing is, I know what I need to do. I just never did it. Some keys to achieving your most impactful and meaningful goals are to develop good habits and to monitor your progress, both of which I am working on at this moment. Additionally, instead of avoiding bad things (such as people disliking my website or being afraid of revealing my body in public) I am more focused on promoting and advancing the areas of my life that do mean a lot to me. Knowing that other people have had success in what I am trying to accomplish aides in building the confidence that I can do it, too.
ENGAGEMENT
"It explains how we can achieve more happiness through putting our values first and focusing more attention on what really matters to us. It explains how we will gain more happiness from a deeper engagement with fewer friends."

-Tony Crabbe, on engagement
Chapter 9: Stop Striving for "More"!
To be honest, prior to this month I had never truly defined my core values. That's a pity, because according to the book, a life built on core values has meaning and purpose. When we are engaged in activities aligned with our core values we thrive. Engagement and meaningful connection lead to a successful life. I have clearly defined my set of 3 core values. The mission now is to live my life putting these core values first and not sacrificing them for other goals which probably won't make me happier in the long-term.
Chapter 10: Reconnect
Many years ago, I considered myself a social butterfly. Over the years this has changed and I find much more enjoyment from deeper connections with fewer friends. Finally, I have been doing something right based on this book! There are two things to consider in relationships: being together and doing things together. I think that I do a good job of the doing things together part; now, I seek to work on the being together aspect of my relationships. I want to be more engaged with the people I am with and more in the moment with them. Challenge accepted.
Chapter 11: From Buzz to Joy
Throughout my life, I have been a serial hobby-hopper. I have so many interests and lack the willpower to focus on one seriously for the very, very long term. It has been fun moving from one new thing to another. I have learned much and my collection of developed skills is probably helping me more than I realize. Still, as it turns out, we enjoy things more when we commit to them, not when we keep our options open! This, for me personally, is the most important insight in the book. Another key insight is that being idle allows us to use our default network. This default network is essential to integrate our experiences, learn, grow and resolve problems. Indeed, it helps to create you! Instead of being active all of the time, I make sure to have unapologetic idle moments during the day. Some of my best ideas have come about during these times.
Chapter 12: Beyond Busy
I have had so many good intentions throughout my life. How many of them have I actually acted upon?! Not enough! How many of those did I see through to the end?! Not enough! Motivation and good intentions are nice, but they don't drive action in-and-of themselves. There are steps we can take to actually make personal change. I am working through some of these steps. This website, actually, is the realization of many of the efforts I have made to change.
THANK YOU
So, there you have it… Busy by Tony Crabbe. I wholeheartedly loved this book. My rambling here do not give it justice. Still, I hope you found them helpful and inspiring.
A FREE GIFT for YOU!!!
As a special gift for those who made it to the end, you can download my FREE "Just a Taste" 1-page summary of Busy by Tony Crabbe as a continued source of inspiration and reference.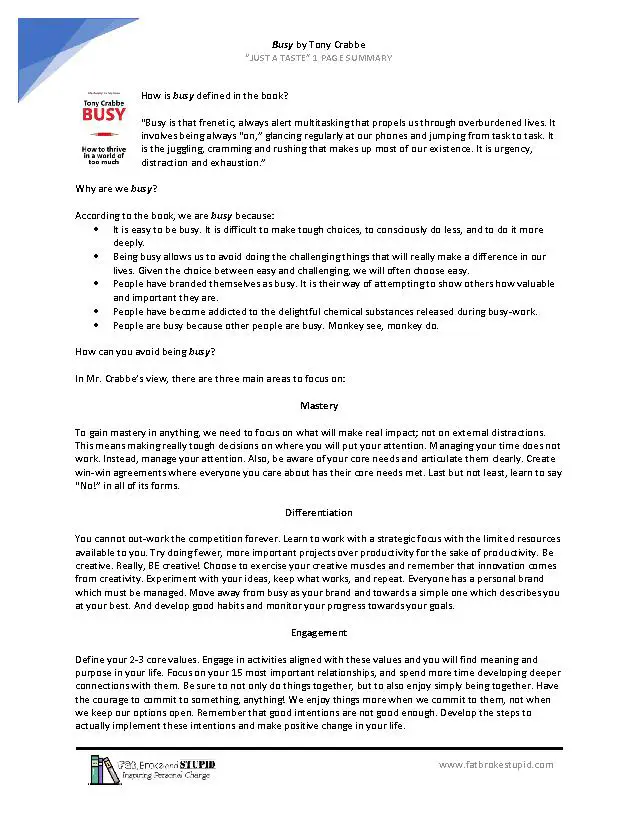 NEXT STEPS…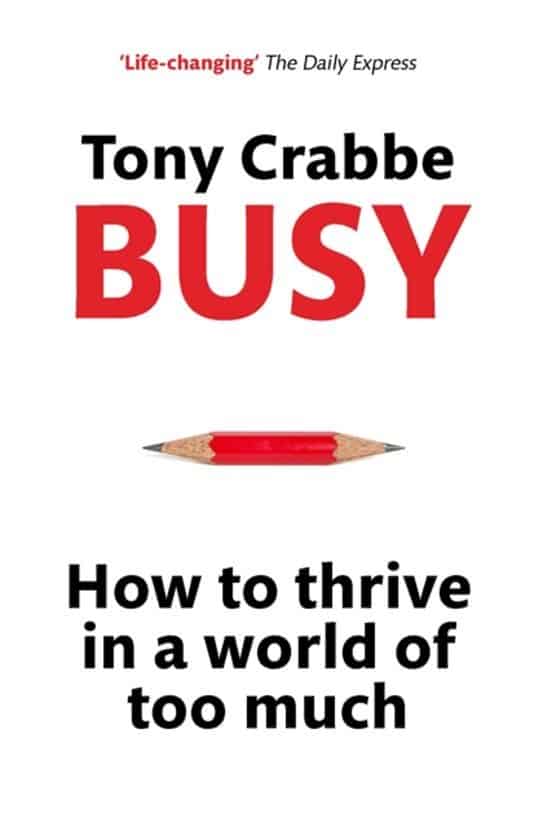 Even better, click this link to check out the current price of the book for yourself! Read it, read it again, and experiment with his ideas. I already feel a difference in my life. I know you will, too!
I make this recommendation because I absolutely love this book. I want more people to read it and apply its lessons to their "busy" lives.
This is a lifelong journey, and I (we) are not there… yet!