I just finished reading The Power of Habit: Why We Do What We Do in Life and Business, by Charles Duhigg. It is objectively an excellent book, and perfect for anyone who has ever felt fat, broke and/or stupid before. I highly recommend it!
It helped me to think more critically and honestly about what I do and why I do it. I was able to find opportunities for changing some personal habits which conflict with my values and goals, and I learned practical steps on how to make those changes.
Conversely, I also found opportunities for developing new habits which align with my values and goals. Pretty awesome, right? Keep reading, and find out what this book can do for you.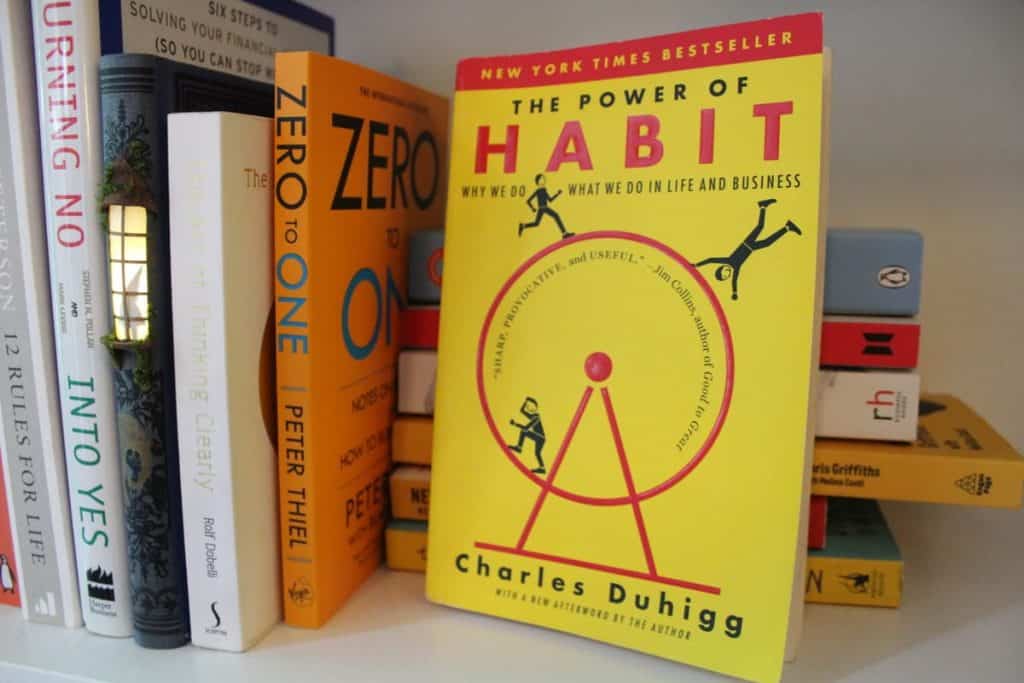 Who Is This Book For?
If you are trying to make personal change in your life, this is a must-read book.
Be it weight loss, developing a consistent exercise routine, saving more money, improving your business, performing better at school, or acquiring new skills… whatever it is… this book will benefit you.
If you are simply curious about human behavior and the inner workings of our brains, you will find the science and stories deeply engaging.
What Will You Learn from this Book?
Among other things, after reading this book you will know more about:
What habits are
Why we develop habits
How we develop habits
What the habit loop is (cue-routine-reward)
How to effectively change our habits
What a keystone habit is
Examples of people who have used habits to improve their lives
Examples of businesses that have used habits to make improvements
Examples of how habits affect society at large
The ethics and morality of habits
In addition to all of this, I learned much about myself while reading and reflecting on this book. I suspect that you will learn a lot about yourself, too!
Most Interesting Statistic
It did not take me very long to find this gem, which comes from pg. xvi in the prologue:
"…40 percent of the actions people performed each day weren't actual decisions, but habits."

-from a 2006 paper by a researcher at Duke University. 
This statistic stunned me. Never before had I thought about how automatic and habitual my day-to-day activities are.
It makes sense on an evolutionary standpoint, too. Habitual activities require less brain power. This saves us energy. This means we require a smaller brain and head. That's good for childbirth. Wow.
Still, 40 percent seems quite high. Assuming this number is accurate, let's have fun with some math:
There are 24 hours in a day…
For simplicity, we sleep 8 hours a night…
That leaves 16 waking hours per day…
If 40 percent of our actions are habit…
We only make decisions for 60 percent of our day…
60 percent of 16 hours is…
9 hours and 36 minutes
So, we only make decisions for 9 hours and 36 minutes each day, right? Maybe!?
I'm sure that this is not how habits (or math) work, but it is insightful to think about our days, how much time we have, and what we do with that time. For example, think about these questions:
How much of your day is on autopilot?
What deliberate choice did you make for yourself today?
What is the first thing you always do when you come home from work?
What is the first thing you always do when you wake up?
Most Impactful Quote
"And once you know a habit exists, you have the responsibility to change it."

-pg. 271, The Power of Habit
Ignorance is bliss, or so I am told. It's impossible to consciously change something you do not know exists. And if you are not aware that something exists, how can you be accountable for it, right?
Once you become aware of a bad habit, however, something changes. You now have the power to change it. The argument here is that not only do we have the power, but the responsibility, to do so.
Still, knowing that you need to change something and knowing how to make that change are not the same thing. Fortunately, we all have the ability to change our habits, and this book can open your eyes on how to do it. 
Most Memorable Story
There were so many memorable stories in this book.
Yet every time I think of The Power of Habit, my mind returns to the story of Paul O'Neill and the keystone habit. Let me explain…
The idea behind the keystone habit is simple: some habits are more important than others.
"…success doesn't depend on getting every single thing right, but instead relies on identifying a few key priorities and fashioning them into powerful levers."

-page 100-101, The Power of Habit
Instead of being perfect at everything, you can focus on one important aspect of your life or business.
For Paul O'Neill, that was worker safety at the large steel factory business he ran. After he made worker safety the most important organizational habit, every aspect of the company improved. It just started with one keystone habit.
We, too, can begin by focusing on only one aspect of our lives. What might that be for you?
Apply this Book: Change your Fat Habits
I used to weigh 296 lbs. (134.5 kgs.). At about 6 feet and 2 inches tall, I had a body mass index (BMI) of about 38. According to the Center for Disease Control, this meant that I fell into the category of Class 2 obesity. I was dangerously close to entering the "extreme" obesity category. Not good!
That was many years ago, and bad eating and exercise habits certainly played a major role in reaching this weight. I did not understand habits during this period. I made my personal change through trial and error… and sheer grit over a long period of time.
Armed with the knowledge I have now, I feel better capable of identifying areas where poor habits still exist in my life. These habits conflict with my values and goals, yet the influence of habit means that they continue to occur.
For example: I occasionally go to a café to work or read. If they serve carrot cake, I ALWAYS order a piece. As I received my order while reading this very book, I read:
"Consumers sometimes act like creatures of habit, automatically repeating past behavior with little regard to current goals."

-pg. 187, The Power of Habit
So, there I was, staring a poor habit straight in the face. I still ate the piece of carrot cake, but I will never be able to enjoy them the same way again.
The lesson here is that once we know what to look for, we can choose our habits. With dedicated effort we can rewrite our brains to the point where having a protein shake at night instead of a cookie is so automatic that it no longer becomes a choice; rather, a habit.
Remember: If we choose and develop the right habits for our values and goals, we can achieve anything!
Apply this Book: Change your Broke Habits
I am 33 years young. Until I was 32 years old, I had a total of $0.00 saved for retirement. That's scary.
The worst part is, I am not alone. According to this articles by Forbes, as many as 33% of Americans also have no money saved for retirement.
Then, I developed a habit: I put 10% of EVERY paycheck that I receive into an index fund. It's simple, yet effective.
This simple habit had big ripple effects. First, I had to research and learn about index funds and the stock market. Then, I had to manage my budget to make sure that my living expenses would handle a 10% decrease in disposable income. Lastly, I created a system where my 10% transfer is as automatic and as easy as possible, ensuring that I follow through every paycheck.
And with this habit, I have begun the process on making myself more financially stable and secure.
There are many opportunities for developing positive financial habits. What is one thing that you could do to save more money? Could you turn it into a habit somehow?
Apply this Book: Change your Stupid Habits
I wake up at 5:00am every morning. I like the peace and quiet in the mornings, and I find that I am more productive and creative in the mornings.
However, I developed a bad habit of immediately checking e-mails, obsessing over analytics, researching baseball stats, etc. to the point that I lost track of time and wasted the entire morning.
Instead, when I wake up and consciously decide to read a book or create/produce something, I find that my entire day is improved. I accomplish more throughout the day, and I finish the day feeling satisfied that I have learned, created and contributed something to the world.
I am now aware of this, so I have a responsibility to myself to stick to the good habit. Sometimes I falter, but more often than not I follow the action which aligns with my values and goals. The more often I do it, the more automatic it becomes.
Try and find key moments in your day where you can add more value to your day. Use the tools in this book to help you develop better routines. Your future self will thank you for it!
Books to Read After Reading This Book
If you are intrigued by The Power of Habit by Charles Duhigg, I would also suggest this book as a follow-up:
Busy: How to Thrive in a World of Too Much, by Tony Crabbe
This is another excellent book for anyone who feels "busy" all of the time. I read it. I loved it. I wrote about it here on my website. Click here to read my review.
Another Book by Charles Duhigg
Charles Duhigg is also the author of Smarter Faster Better: The Secrets of Being Productive in Life and Business. Check out the book and its current pricing on Amazon (affiliate link).
The driving question of this book is: how can each of us achieve more? 
I just purchased this book and I am extremely excited to start reading it. If it is anything like The Power of Habit, I'm sure it will be excellent!