I have no idea what I want to do with my life.
When I was little I wanted to work in a cubicle (seriously!) and own a baseball card shop. This evolved into presidential aspirations, and when I realized how much I disliked politics I pulled a 180° and dreamed of becoming a Super-Rockstar!
Eventually I stumbled into travelling the world, which I did for 12 years. Along the way I had many jobs. I actually enjoyed them all in different ways, worked hard at them, and had "success" in various forms. Still, the work was reactionary and supported my travels; it was not my true calling.
Now in my early 30s, I feel driven to find the work that I was truly meant to do. Reading, self-reflection, a bit of luck, and a lot of action led to the creation of Fat, Broke and Stupid.
A major source of inspiration for me has been the work of Chris Guillebeau, a man whose travel experience dwarfs my own.
In this post, I would like to share my experiences with his book Born for This. I truly loved it, especially in combination with the other books of his that I have read.
This is not a thorough analysis of the book; rather, my thoughts and experiences of key ideas that I found especially insightful and useful to me. There is much, much more left untouched in the book. Do yourself a favor: buy it, read it, read it again, and apply it to your life. Who knows, it may inspire you to find the work you were meant to do. It has inspired me, and I am actively working to make it a reality.
FREE "Just a Taste" PDF Summary
This is a long blog post. I know that. It may turn some people off reading the whole thing. I hope not, as I really want people to know about and read this book.
So, I also made a FREE "Just a Taste" 1-page PDF summary of key ideas from the book for those who need a shorter summary. It is yours to have as a continued reference and source of inspiration. Remember, while I made this summery, Chris Guillebeau is the man to thank for its message and ideas!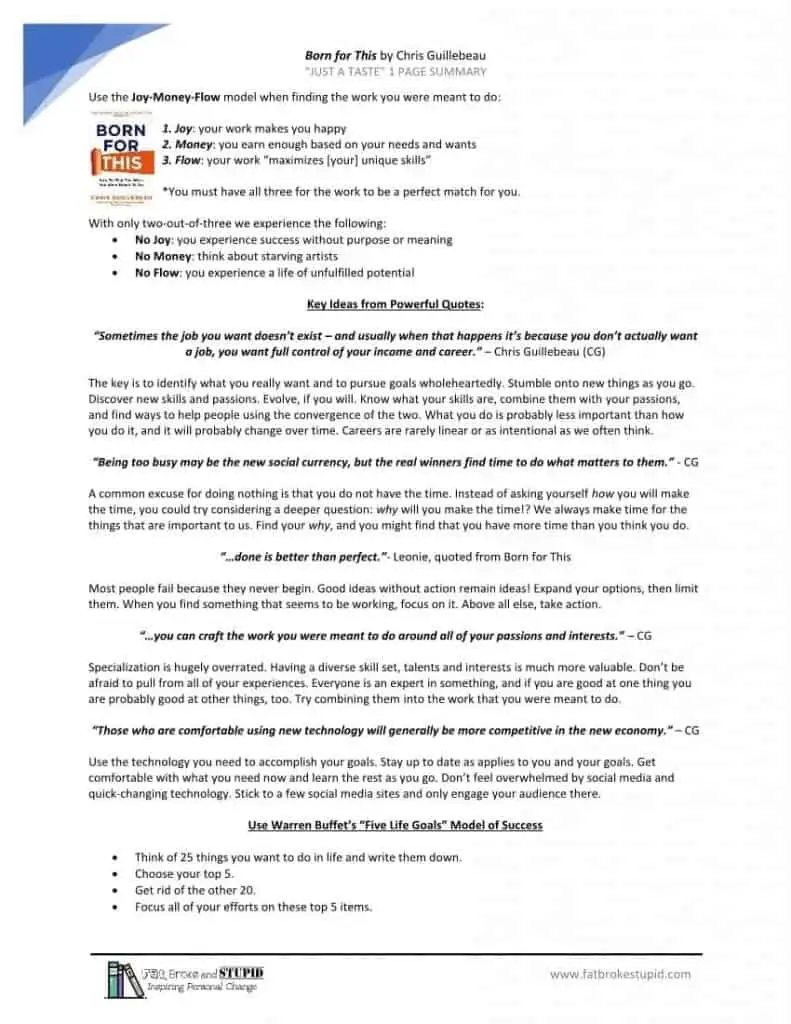 NOTE: This FREE "Just a Taste" 1-page PDF summary and the blog article that follows in no way comes close to how awesome and transformative this book can be for you. I highly, highly suggest reading it!
Now, without further ado: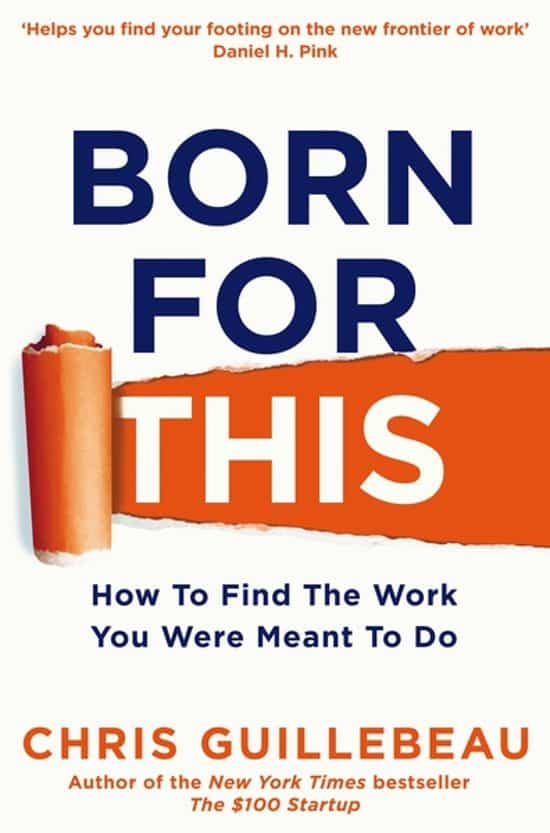 YouTube Video
You can also watch my YouTube video summary with key ideas about this book.
Chapter 1: Flip the Script
Here's a classic script: good school, good grades, good job, marriage, house, family, pet, pay taxes along the way, buy stuff, take a week vacation here-and-there, play with grandchildren, retire, die.
It works for some, but not for everyone… and not for me.
We can settle for this, we can make trade-offs with respect to these scripts, or we can "flip the script".
So, what works for me?
Quite frankly, I have no idea! I'm sure many of you reading this feel the same way. This website is the result of my actively working to figure it out.
I have always wished that I just knew what I was meant to do. At times I even wanted other people just to tell me what to do rather than work hard to figure it out myself. Consider this:
"…passion is not uncovered, it is created. But most people never put in the effort required to get good at something to the point where you grow to love it."

-Melodie, quoted from Born for This
Perhaps the key is to commit to something you really like doing, and to do it long enough that you grow to love it? Worth a shot! This idea of commitment also comes up in the book Busy, by Tony Crabbe. I found it pretty powerful.
So, what is the goal of this book?
It is to find work that is fun to do, gives your life meaning, and also pays the rent. The important part is that this applies to us individually, and that what's right for you may not be right for me.
How do people find what they were born to do?
You need to keep working at it. Believe in yourself, your passions, and work tirelessly to make it happen. If you encounter obstacles, find ways to solve them and keep moving forward. It's that simple. It may not be "happy" all of the time, but that is OK! The goal is not happiness necessarily; it is to find what you are meant to do in life.
Setbacks will happen. It will require considerable time. Your success will unlikely be linear; rather, there may be plateaus and explosions of progress. This is normal. Keep exploring, keep taking action, and you will get there.
Of particular interest to me is the idea that specialization is hugely overrated! Not too long ago, I had a discussion with a trusted friend about how career success requires becoming specialized as a form of differentiation. While this may be true for some and in particular fields, having a diverse skill set, talents and interests might just be more valuable. I believe it is.
This has been important to me because the more I have researched monetizing a website the more and more I hear that you must find a niche to be successful. Well, my interests are diverse, and my dream job involves all of them, so here's to do things my way and embracing all of my interests. Fingers crossed…
Chapter 2: Your Money and Your Life
This chapter has many great insights. In my opinion, the most important is the concept of Joy-Money-Flow:
Joy: your work makes you happy
Money: you earn enough based on your needs and wants
Flow: your work "maximizes [your] unique skills"
To find the work you were meant to do, you must have all three. With only two-out-of-three we experience the following:
No Joy: you experience success without purpose or meaning
No Money: think about starving artists
No Flow: you experience a life of unfulfilled potential
I did an exercise in the book and discovered that flow is the most important for me, followed closely by joy, with money a distant third. Still, all three are essential, and it is important to remember that I do not need to be in a flow state 100% of the time.
OK, nice, but… how do you find this magical work?
The key is to identify what you really want and to pursue it wholeheartedly. Stumble onto new things as you go. Discover new skills and passions. Evolve, if you will.
What you do is probably less important than how you do it. It will probably change over time as you change, so just go for it now and enjoy the ride. Careers are rarely linear or as intentional as we often think. Mine sure hasn't been, but I keep moving forward nonetheless.
Chapter 3: Always Bet on Yourself
I love chess. I've played for just about half of my life and I always keep at least one game going. It's a wonderfully challenging, artful game. It's also a lot like life: while your own strategy is important, being able to anticipate and respond to the changing environment based on your opponent's moves is essential for success.
We should be methodical and intentional while accepting a certain degree of risk. Most opportunities involve some level of risk. Knowing your personal risk tolerance will allow you to manage your risk in a way that is comfortable for you.
Regardless of your risk tolerance, do not avoid risk completely. I have a better understanding of my risk tolerance thanks to my beginning to invest back in November 2018 and digging into the world of investing in general. Now, I am pushing my risk tolerance gradually with this blog and eventually by publishing YouTube videos.
Along with risk, most opportunities also involve some measure of chance. To better manage your risk and to be lucking, take better chances. How do we do this?
Identify hazards
Make decisions based on reason, not fear
Use the "if-then" strategy from the book
Chapter 4: Prison Break 101
"…done is better than perfect."

-Leonie, quoted from Born for This
WOW! As a self-claimed perfectionist, I too often get in my own way. While I do value creating quality work, striving for perfection has led to abandoning projects and accomplishing nothing. Perhaps it was an excuse to avoid the risk of having my work rejected or criticized. I now seek to finish projects, knowing that I can always revise and improve them later. Constructive criticism will make me better at whatever I am working on. "Perfect" does not really exist anyway, so why put it on a pedestal?
Now, towards finding your calling in life…
Everyone is an expert in something, and if you are good at one thing, you are probably good at other things. Know what your skills are, combine them with your passions, and find ways to help people using the convergence of the two.
Think differently, get creative, and use all of your skills. If you don't know how to do something figure it out and add it to your skill-set. The key is to improve the right skills, not to collect them randomly.
I particularly enjoyed Chris Guillebeau's definitions of qualifications vs. skills:
Qualifications: show how good you are at following directions
Skills: show that you can get something done. They are keys to finding success and happiness
It is becoming easier and easier to self-learn the skills you need. For example, online MOOCs (Massive Open Online Course) like www.coursera.org allow people to study many different topics from some of the best universities and most gifted minds around the world. I have taken six specializations on Coursera just for fun. Totally worth it.  
Aside from MOOCs, there is often more than one way to do a job or obtain the qualification/skill you need. Be open minded, keep your eyes open, and take action when you find something that will help you move forward.
As far as skills go, here are two types:
Hard skills: technical and specific to a job; usually learned through courses and training
Soft skills: universal and widely applicable to work and life; often learned in the real world
As far as skills go, you can always work to improve your soft skills. Among them, consider improving:
Writing
Speaking
Negotiating
Ability to follow through and follow up
Additionally, become comfortable with useful technology. Some people believe that those who will thrive in the future will have the skills to use technology to make lives better and more productive. I believe it. I have seen it in action. I am learning as much as I can about the technology that will help me accomplish my goals. Are you?
This chapter is called "Prison Break 101", so there must be something about breaking free, right?
Of course there is, silly… set a Countdown Clock!
Make a hard deadline for when you will escape from your current life and do the work you were meant to do. I have set the following:
Ambitious goal: 1-July-2020
Actual goal: 1-July-2021
The countdown has begun, and I am doing everything I can to stay focused and achieve it. I am also doing it deliberately. I did not just quit my job and go all-in! I still work, I take this work seriously, I do it the best that I can and I take joy from it. I will continue to do that until it is time to fully transition into the work that I was meant to do.
In my free time, I am creating the work I believe I was meant to do. It is hard work, but it is worth it. The process has been amazing so far, which is a good sign.
Chapter 5: The Answer in Your Inbox
Our relationships are incredibly important. Nourish them.
Our relationships may also be a key to discovering what we were meant to do with out lives. The people you interact with every day may offer insight into what your most marketable skills are, they might illuminate your areas of expertise for you, which might be a hint on how to focus your time, and they can offer valuable feedback on your projects and ideas.
The core principle I learned from this chapter was: when I am unsure about my skills and what my "thing" is, I should talk to my network of family and friends.
Once you do this, remember: the more we focus on solving other people's problems, the more successful we will be! Here are some useful tips I think about daily thanks to this book:
Try to solve everyday life problems.
Specific and measurable solutions are better than trying to create huge behavior change!!!!!!! (This is especially applicable to me as I seek to inspire permanent, personal change. How can I make this specific and measurable? I don't know… yet! Perhaps I should ask my network?!?)
Think about why people should care about your work.
At the end of the day, this will still be just a hobby if you do not earn money. Thinking about problems and solutions is critical to finding work you love that people will actually pay for. Your skills are only valuable if others are willing to pay for them.
Follow through with your ideas. Remember that most people never do anything with their good ideas. Don't be one of these people. Take action on your ideas. What do you have to lose? While doing so, remember that the goal is to meet needs and provide solutions to specific, everyday problems.
Start asking questions. The answers will probably be there right under your nose…
Chapter 6: Life Coaching from Jay-Z
"Be interested more in how other people do things than in telling them how you are doing it. Your work will speak for itself."

–Leon, quoted from Born for This
Possibly the most important message I took from this chapter is: the goal of all of this is to make career changes that bring joy-money-flow to our lives.
Luck is a huge factor in everything. To get better at being luckier, figure out what you are good at and tap into this ability. Converge it with your passions and interests. Take action. In time, the luck will come, if you are lucky that is.
My dream career is not about what I can do, it's about what I should do… it's about finding the path that's best for me! The same applies to you. Most dream jobs are found or created through nontraditional methods. Don't be afraid to flip the script and take some risk. It will be worth it.
To find your dream career, brainstorm options and try them out. Expand your opportunities at the beginning. As things take shape and become clearer, you may find some promising options. At this point, limit your options and focus on what is working. The right decisions can be obvious. Fully accepting and acting upon them can take time. Expand, then limit!
I was so happy to see Warren Buffet's "Five Life Goals" Model of Success in this book. I love Warren Buffet! He has been enormously influential in learning about investing, and I had already completed the "Five Life Goals" exercise prior to reading Born for This.
Here it is in a nutshell for you to complete, too:
Think of 25 things you want to do in life and write them down.
Choose your top 5.
Get rid of the other 20.
Focus all of your efforts on these top 5 items.
Sometimes less is more. Commit to these top 5 life goals and go for them. Adding this focus and limiting your options will probably lead to a more purposeful, meaningful, and happier life.
Chapter 7: Side Hustle
"Being too busy may be the new social currency, but the real winners find time to do what matters to them."

–Chris Guillebeau, quoted from Born for This
Everyone should have a side hustle, or a way to get recurring income on top of their main job. This does not mean that you have to quit your job. It also doesn't have to dominate your life.
But what should it be? It should be enjoyable and make enough money to be worth your time and energy. There are many different kinds of side hustles, and it is such a big topic the Chris Guillebeau wrote an entirely separate book on the subject. Check it out here. Who knows, your side hustle might be wildly successful and become the work you were meant to do! I hope it does for you!
Regardless of the side hustle you do choose, think about the joy-money-flow criteria and focus on meeting people's needs and providing solutions to everyday problems.
If you are not sure what ideas to focus on, remember that simple, helpful ideas trump waiting for a world-changing, big idea. Be helpful and solve problems.
When you do find something promising, move on it quickly even if you do not feel ready for it. Most of the people highlighted in Chris Guillebeau's books were not ready when they began. It doesn't matter. Just begin. If it works, great! If it does not work, no problem! You probably did not invest too much time and money at that point anyway. Move on to the next idea and keep at it.  
Chapter 8: You, Inc.
"Sometimes the job you want doesn't exist – and usually when that happens it's because you don't actually want a job, you want full control of your income and career."

–Chris Guillebeau , quoted from Born for This
Seriously, it sometimes feels like Chris Guillebeau is writing directly to me.
I've never known what my dream career should be. I've spent countless hours pouring over job listings on every site you can think of. Rarely would I find something that truly, genuinely excited me. Perhaps that's because I never actually wanted a job at all! Maybe the solutions have been under my nose all this time, but it took a while to fully accept and act upon them?!?
As for your project, be strategic about when you decide to go all-in. Quitting your day job now to devote all of your time to your promising project is risky. Instead, wait until it moves beyond promising to being already established and capable of meeting your basic needs. At this point, when it seems like your project just needs a bigger push to fully erupt, and it meets your basic needs, go all in.
As far as growth is concerned, there are two basic ways:
sell more to existing customers
sell more to new customers
Keep investing in yourself! Don't neglect these four main areas highlighted in the book:
Skills
Connections
Experiments
Opportunities – say yes to them, especially at the beginning!
This chapter again highlights the importance of technology…
"those who are comfortable using new technology will generally be more competitive in the new economy."

-Chris Guillebeau , quoted from Born for This
Use the technology you need to accomplish your goals. Right now, I need to master WordPress for website design. So, I am focusing on this. Next, I will need to learn about video editing for the YouTube videos I want to make and publish. There is no need for me to worry about all of the new technology out there, only the technology that gets me to where I want to go. As the scope of this project evolves, I can then learn new technologies. Baby steps, but fundamental.
Social media, too, can feel overwhelming. There are so many sites to keep up with, and it is tempting to spread yourself too thin by being everywhere. Don't do that! Focus on a few strategic sites and engage there. For me, I am focusing on this website and YouTube. This is where I spend most of my time anyway, so it is a good place to start. In time, I can branch out if I choose to. For now, managing two locations seems like more than enough for little-ol'-me.
For years I have considered getting an MBA. I thought it was what I needed to do to get a good job, make lots of money, and follow a specific script of life. According to this book, an MBA is great if you want to be a middle manager in a big corporation. To run your own business, on the other hand, it might be BETTER to stay out of school and figure out what you need to know as you progress. Personally, I choose the latter options and will invest the $80,000+ in myself in other ways.  
Chapter 9: How to Become a Firefighter (or Whatever You Want)
For many people, finding any job is a numbers game. Apply to as many jobs as you can and hope for the best. These days, it's made even easier with websites bringing employers and applicants together with just a click of a button. This dilutes the applicant pool and actually makes it harder to get a job, let alone the job you were meant to do.
On top of that, research shows that most people actually get hired outside of traditional job applications.
Don't play number game… apply for the right jobs instead.
My favorite idea from this chapter comes from sociology. It's "the strength of weak ties" concept. It states that acquaintances can open more doors than our friends. We typically run in the same circles as our friends, whereas our acquaintances know different networks of people. This is powerful not only for looking for jobs; the concept can be applied to many areas, including finding needed resources and spreading the word about your project.  
Success requires persistence, but persistence alone is inadequate. You should be persistent and strategic. Work hard and smart.
Realize that all of your relationships are important, and that the quality of these relationships is more important than the quantity. Connect with people, and connect with the right people.  
But where are the right people for you?
How should I know!? I need to figure this out for myself, too!
Once we do find them, we should be genuine and authentic with them. Really, we should be genuine and authentic all of the time, but I digress. Everyone can smell a phony from a mile away. We can also tell when someone just wants to get something from us. Remember to be helpful and solve other peoples' problems.
If doing this through your writing, don't write for the masses. Build a connection with the reader. I must tip my cap to Chris Guillebeau; he made a connection with me. I aim to do the same in my writing.
If all else fails, you can also just start working and see what happens. People have successfully used this technique to get jobs before, so it can be done. I just started this website despite feeling totally unprepared and with a roadmap of where I think it might go. Let's see what happens…
Chapter 10: The Self-Employed Employee
This chapter is mainly about making your current job work for you. There is nothing wrong with being an employee. I have been one for all of my income-generating life. Many people find deep satisfaction and joy from their jobs. It becomes even better if you make the job work for you. This chapter highlights many ways to accomplish this.
This is not my goal, however, so I will not linger too long here. Still, I found many wonderful ideas in this chapter which I am applying to my life. For example:
Maybe you are self-employed, or maybe you have a traditional job. Regardless, you and you alone are responsible for your own career. Take this seriously.
Don't stay stagnant. Continue to develop your skills and to learn new skills. This will help you to remain indispensable in your current position, and it could even lead to a promotion.
I have seen many people get into a rhythm in their normal jobs and just go through the motions until their work day was done. That's fine, I guess, but you can be just as entrepreneurial in your normal job as you can be while self-employed. I suspect that the more you do this, the more you will enjoy your job, and the more successful you will be. You might even grow to love it. It could morph into your dream job… or not… but could it be worth it to try?
Be reliable and indispensable in everything you do. Look at the big picture and find solutions which are win-win for everyone involved.
Don't get overwhelmed to the point of being totally useless, unhelpful and unproductive. Avoid "rent-seeking" behavior and do your job with excellence before voluntarily taking on new responsibilities. This message parallels ideas in the book Busy, by Tony Crabbe. I have taken these to heart and I already find myself more satisfied with the work I am producing while feeling less busy all of the time.
Chapter 11: DIY Rock Star
Success is not an equation. Your number of followers or subscribers does not define your success; rather, the quality of the relationships you build with your fans, subscribers, community, etc. is key. Authentically and genuinely engage while being helpful. It is much better to do this with 100 people than to ignore 100,000.
Many people and groups, such as the Grateful Dead, have had great success with this approach, you cannot simply copy-and-paste what they did and expect success. Still, don't ignore it, either.
According to the book, success in the new economy shares four characteristics:
Product
Audience
Platform
Money
All four are important, and required, for success. All four are considered more deeply in the book, but I would like to stick with audience for a moment longer. Gaining and growing an audience requires persistence, patience, and authentic, two-way engagement. Communicate with your audience, not at them.
I hope to inspire permanent, personal change. This is great, and I hope I accomplish my goals and that others will do the same. To be a business and avoid becoming a starving artist, I cannot be just inspiring; I need to create things that my audience will buy. That, or find some other way of generating a sufficient income to match my needs.
This is a long-term goal. I may stumble along the way, but if I can get just a few big things right I can afford to make many small mistakes. This is comforting to realize.
Chapter 12: How to Do Everything You Want
"…you can craft the work you were meant to do around all of your passions and interests."

–Chris Guillebeau, quoted from Born for This
The big question comes up again… what should I do with my life?
And again, I don't know. I have never known. I am still looking. I have expanded and limited my ideas and am taking action on them. It is helpful to realize that most people don't know the best answer right away, either. For some people, even if they do find the right answer it may change over time.
The right answer for you and for me might be to refuse to choose a single career path.
"you can craft your life around all of your interests and still be successful"

–Chris Guillebeau, quoted from Born for This
A nice strategy for making this happen is Workshifting. With Workshifting, you can do many projects by focusing on one thing for a while, and once complete, deliberately focusing on something else.
My favorite is Instinctive Worshifting, and the book highlights other ways that this can be accomplished. I find it particularly helpful when considering the scope of projects I hope to accomplish. Fortunately, they all fall under the umbrella of Fat, Broke and Stupid, so with each I am moving towards my goals, but I can rotate projects a bit to keep things fresh and interesting for me, too.
It is important to remember that Workshifting is not multitasking. Multitasking is garbage. Don't try it or claim that it works. All of the data I have seen on the topic leads to the same conclusion: multitasking reduces performance. Don't take on too much and get nothing done. Focus fully, finish what you are working on, then deliberately decide to shift focus.
Again, what should you do with your life?
In a strange turn of events, it probably doesn't matter anyway!  
Just pick something! Expand your options, see what works for you, then limit your options. Try it out. I have been doing this for 33 years now, and I am finally making progress, thanks in no small part to this book.
Paralysis-by-analysis and general inaction are often worse than action. Doing something, even if it is a total disaster, is probably better than doing nothing. We must find a way to keep taking action and to keep moving forward.
A common excuse for doing nothing is that you do not have the time. Instead of asking yourself how you will make the time, you could try considering a deeper question: why will you make the time!? We always make time for the things that are important to us. Find your why, and you might find that you have more time than you think you do. I made a why based on the work of Simon Sinek. Check it out here.
Chapter 13: Winners Give Up All the Time
Even your dream job need not be a lifetime commitment. People change. In fact, this whole website was created because I want to make personal change and I want to help other people make personal change, too.
Sometimes change is hard. Sometime we stick with something for much longer than we should. Real winners, however, don't hesitate to walk away from unsuccessful projects and things that just aren't working.
This chapter is all about selective quitting, a powerful practice which I hope to become more aware of in my whole life.
But when should you give up and when should you keep going?
That's hard to answer. What this book can tell you is that we love the familiar and that change is hard.
To make making change easier, especially when looking for the work that you were meant to do, remember these tips:
Make changes early when the stakes are low.
Don't waste time on small things.
Don't get stuck in things that will never pay off.
Ignore sunk costs. Time already spent is irrelevant. Don't let is stop you from changing to something better.
When evaluating how your project is going, there are two important questions from the book to consider:
Is it working?
Do you still enjoy it?
Be honest with yourself when answering these questions.
You can also try a life detox. With this technique, you simply make a list of all of the things that you will give up. I personally like to do a purge every now and then. I grab a garbage can and throw out anything I don't need or have not used in months. Or if I can donate it, I do that instead. I find that less is more. Decluttering allows me to focus more clearly on what is actually important to me.
And remember, again, that relationships are our greatest assets. Build quality relationships and nourish them.  
Last but not least, if you have been looking for your dream job, what you were born to do in life, perhaps the problem has been that you have been playing the wrong game. Maybe it is time to look for a new game to play!  
Conclusion
Well, this turned out to be a little longer than I originally intended. I credit that entirely to the quality of the information presented in Born for This by Chris Guillebeau. I really enjoyed the book, and I hope you found this helpful.
This post in no way compares to all of the information presented in the book. The real-life stories are wonderful, and there are many, many more topics that I completely passed over in an effort to focus on what I found most interesting and useful to me.
If you are also searching for your life's calling, I strongly recommend this book and all of the books written by Chris Guillebeau. I have read three of them already. I have also listened to countless interviews, podcasts, and YouTube videos he has been featured in, and I have perused his websites once or twice. I found that while the books are strong individually, they became even more powerful and transformative when I read and listened to his others works as a collective unit.
Next Steps
Buy this book… click this link.
Read this book
Apply this book to your life
Download my FREE "Just a Taste" PDF summary as a continued reference
Leave a comment below and share your experience finding the work you were born to do…