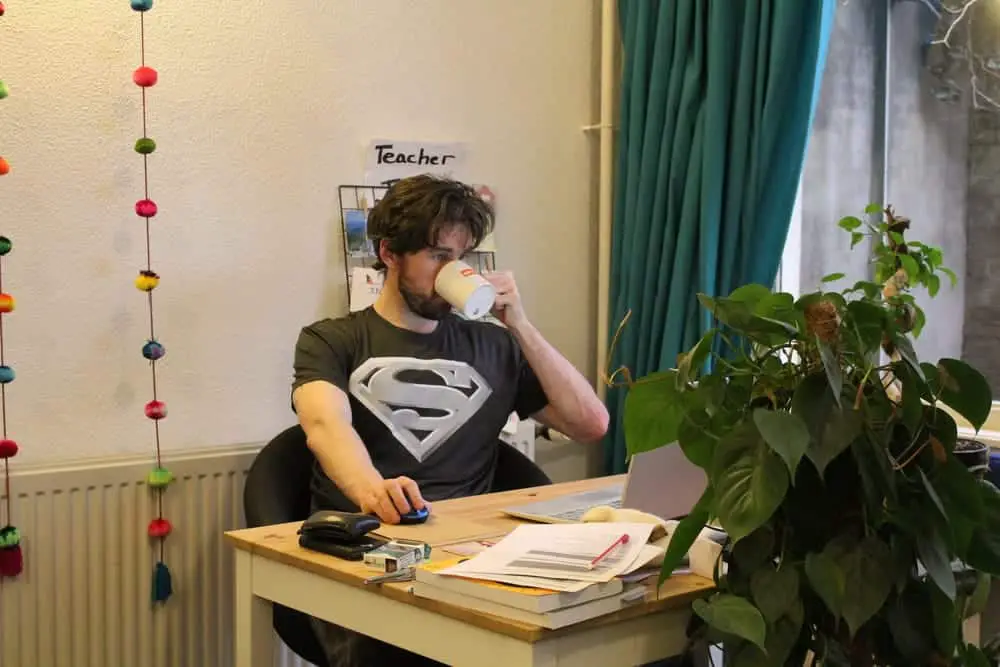 One of my guilty pleasures is studying. Over the past years I have taken 33 online courses and received 33 certificates and diplomas. Studying online has the great advantage of being able to study from home. At least, to me it is an advantage, but I can only imagine there are times when studying at home can be counterproductive. Let's see what ways there are to optimize your at-home-study-time and possible alternatives. 
Establish a space for studying only. Turn off distractions like your phone, television and music. Work in blocks to promote a flow state and efficiently use your breaks by going for walks and moving. Create a routine that includes healthy sleeping habits, regular exercise and a nutritious diet.
First things first, what is the reason that you're not able to study at home? Is it because you have not yet established a great routine? Are you easily distracted? Or do you need to set up a dedicated study space for yourself? 
Let's dive deeper into this…
The Optimal Study Environment
1. Establish a Study Space
I find studying at home comfortable and relaxed, it makes me study harder and work better. It is also cheaper than going out to cafes all the time, and I do love saving money! 
However, there are also many distractions at home that can be counterproductive. If you want to be productive studying at home, you need to have an established study space. 
Having a designated study space helps your brain transition to study (or work) mode. When you are in your study space, you know that it is time to study. 
There are also practical benefits to having a study space: you'll be better separated from other distractions in the house like television, the kitchen, phones, email, Netflix, you name it. They are all designed to constantly distract you. You have two options, remove them from your environment, or remove yourself from them. 
PRO-TIP: Stick to one rule when it comes to your study space: no distractions!
2. Clean and Organize Your Study Space
Having a study space is one thing. Having a neat and tidy study space is another. While you might not care about a clean desk policy in order to protect your privacy, there is another great benefit of having an empty desk: it reduces stress. 
Less stress leads to better concentration and better studying. 
3. Regulate the Temperature of Your Study Space
The temperature in your study space is also important. Make sure it is cool, yet comfortable, something between 68 to 77 degrees Fahrenheit should work to be warm enough to feel good, while not making you drowsy.
4. Sound Proof Your Study Space
My biggest irritation when it comes to distractions is noise. Once a disturbing noise has triggered my concentration, I find it hard to ignore it. There is ongoing debate on whether or not you should study in complete silence or not. Part of the reason why the debate is ongoing, is because it highly depends on the kind of person you are. 
When it comes to background sounds it is important to listen carefully to your personal preferences. Some people like to listen to music, while others like complete silence. Some people work well with natural background noises like murmuring and the sound of coffee cups, while others like the sound of chirping birds. 
One way or another, research has shown that listening to classical music reduces stress and releases dopamine in your brain: making you feel better when you study. 
PRO-TIP: If there are distracting noises outside, try to work with classical music or nature sounds. 
5. Tell Your Roommates
I might sound like your father as I say this, but really… DON'T LET OTHER PEOPLE DISTRACT YOU! 
My girlfriend and I even had to sit down and set some rules about our dedicated study-work time vs. together-time. The same applies for parents and roommates. 
No matter who you are living with, if they don't know that you are studying, they will keep chatting away with you, asking for your attention, disturbing your time. Be clear that when you are studying, you wish not to be disturbed. And just to be clear… bringing sandwiches is also a disturbance (more about that down below). 
PRO-TIP: Let your roommates, partner, parents know that you're studying and be clear that you don't want to be distracted, and for how long. Clear boundaries are easier to adhere to than vague requests.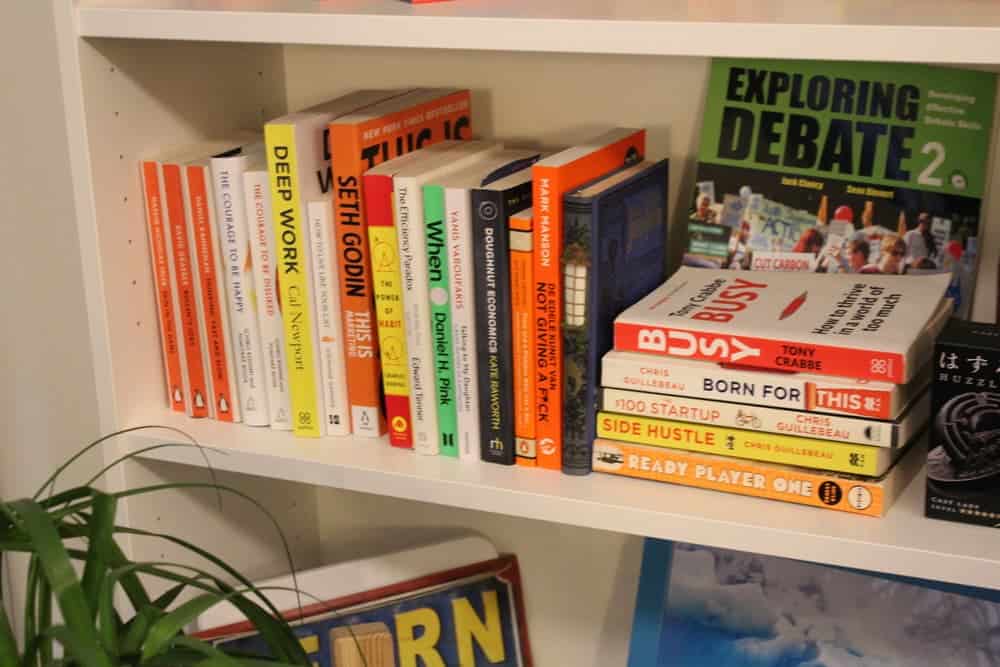 Study Habits To Stick With
Now that you have set up your study space, the major task begins: staying concentrated while studying. Bookshelves full have been written about concentration and different ways to get and stay focused. Here are the basics to get you started. 
6. Develop a Routine
The importance of having a routine has been discussed repeatedly. The book The Power of Habit by Charles Duhigg was one of the most eye-opening books I've read when it comes to… yes, the POWER of habits. Check out my Book Review to learn even more about it.  
In a nutshell: 40% of the things that we do, we do unconsciously because they are habits. Once we turn those unproductive habits of checking social media, reading unimportant news flashes, and even picking your nose., into productive habits, we can change our lives (drastically). 
For example, I love to wake up early and start my day writing (apparently mornings are great to write because your brain is still dreamy and creative). Once I stopped snoozing and checking my emails and started writing immediately instead, I gained 1-2 hours of productive work while most people are still asleep.
Of course, you might be a night owl instead of morning lark, so it is important that you know when you are most productive. Read the book When by Daniel Pink if you want to learn more about this. 
PRO-TIP: Find your most productive times, get yourself a routine, study at the same times every day, no exceptions. May the force of the habit be with you. 
7. Find Your Flow State
While much research says that we can only concentrate for about 30-40 minutes, I dare to argue that you can actually push that to 4 hours. No, it's not magic, it's called a flow state (also known as "being in the zone").
This (short) video perfectly explains how the flow state works: 
The flow state is that feeling you get when you're really into something and time passes without you even noticing it. You can apply that same state of flow on your studies, too. The key is to remove every possible distraction and train the habit of focusing on what requires your attention.  
8. Create Blocks of Time 
Now that you know that you can work for about 4 hours, you can schedule your time accordingly. These blocks of time go hand in hand with your routine and you should schedule your routine around these blocks. They also help the people around you to know when you are unavailable. 
I happen to study and work best when I have large blocks of time that I can dedicate to really digging deeply into something. Other people are better at studying for shorter periods of time with more frequent breaks. Experiment with your preferences, keep track of your results, and plan accordingly. Of course, other responsibilities and life stuff play a factor, but know when you have time and block accordingly.
9. Plan for Before and After Studying 
Your brain needs to rest after long blocks of concentration. It is counterproductive to expect yourself to study from 5:00am to 11:00pm. You probably get as much done from 11:00am to 5:00pm (if not more).
You can't study all day long. So when you're on a time crunch, make a loving note to yourself: start earlier the next time. 
First of all, you need to sleep. How many hours of sleep you need depends on different things, but one thing is certain: cutting on sleep is the worst thing you can do if you want to promote good focus. 
Other factors that improve focus and concentration are meditating and exercising. Headspace is a great application if you want to add meditation to your daily routine. For exercising, how about trying 100 push ups a day? 🙂 
PRO-TIP: When I'm feeling unproductive, I sometimes go to the gym to distract myself. Most of all, I enjoy it, but another important reason for me to go to the gym is that it gets me into a flow state as well. I often find solutions to problems while thinking about them at the gym. When I get back home, my body is re-energized, as is my mind, and I have renewed focus. 
PRO-TIP: When I'm feeling anxious or stressed, I sit down to meditate. Even a 10 minute breathing exercise or meditation can help get me back into work while feeling more relaxed.
10. Take Efficient Breaks 
If you're feeling stressed by time, you might be tempted to skip breaks and push yourself to keep studying and working. Again, your brain needs a break every now and then and planning your breaks well can even promote productivity. 
One way to plan your breaks is with the Pomodoro Technique. The technique uses a timer to plan short breaks after blocks of studying and the times will vary for each student. 
I have often used the Pomodoro Technique for studying languages. Sometimes I find them helpful, other times I don't – especially when I find myself in a flow state and don't want to stop working. As with everything, experiment with the study time vs. break time to find what works best and be flexible. 
PRO-TIP: Use the Pomodoro Technique if you find yourself easily distracted. Set a time (anywhere from 25 to 50 minutes) and don't take a break until the alarm goes off. Use your break to get coffee, take a bathroom break and stretch your legs. After a five minute break, get back into your studies (without distractions). 
11. Remember Your Food & Water 
Did you know that you actually burn quite the energy when you are studying? You might think that you don't because you sit all day, and while this is partially true, your brain definitely uses more energy for more challenging tasks. 
That being said, you will need to refuel accordingly. For your breaks, opt for nutrient dense foods and plenty of liquids. According to Healthline, the best foods for your brain are: 
Fatty fish
Coffee
Blueberries
Turmeric
Broccoli
Pumpkin seeds
Dark chocolate
Nuts
Oranges
Eggs
Green tea
How about this Super Seed Pumpkin & Broccoli Salad with some Dark Blueberry Nut Chocolate for dessert and a glass of OJ? And of course a cup o' tea for when you jump back into the books… Ready to crush it, I'd say!?
An Example Routine
This is my (ideal) routine for a study-work day: 
| | |
| --- | --- |
| Time  | Activity |
| 5:00am – 7:00am | 2 hour writing block |
| 7:00am – 9:00am | 2 hour gym and breakfast break |
| 9:00am – 1:00pm | 4 hour block of flow state studying / work(with healthy snack break if necessary) |
| 1:00pm – 3:00pm | 2 hour lunch break  |
| 3:00pm – 7:00pm | 4 hour block of flow state studying / work |
| 7:00pm – 7:30pm | 30 mins evening snack / short break |
| 7:30pm – 9:00pm | 1.5 hour block of writing/studying (or chilling, reading, second gym session, etc.)  |
As you can see, this routine includes eating healthy, going to bed on time, waking up early, and exercising regularly. And still, I have plenty of breaks and time to relax. Also, for those who carefully look at this: it adds up to 11.5 hours of work in a way that is easily achievable. 
You may notice that there are limited social things in this routine. Clearly, every day is different, and being social and going out is very important! The above routine is an example of an ideal study-work day, and not necessarily something you should apply seven days a week.
Other Study Places to Consider
Sometimes you just need a change of scenery, get out of the house, see other people. Or those days that the neighbors decide to renovate their house and you need to escape the drilling and hammering. There are days where I feel like going out, and sometimes the pressure of being in a public place even makes me work harder and better. 
In every city on this planet (believe me, I've completed many of my courses while being abroad) there are libraries and coffee shops available for you to study. In this time and era you will even find dedicated flex-work spaces that are designed for people who work or study from home.
Study Places to Skip
You might wonder whether there are places that you shouldn't go to for studying purposes. And needless to say, there are plenty such places. You probably want to decline your best friend's invitation to study at their place, knowing that the social chattering will never allow you to reach a flow state. 
Another place that might seem extremely comfortable, but should be reconsidered is your bed: the second you plant yourself on your bed, your brain will signal to your body that it is time to sleep. Your brain is very smart and clear: a bed is for sleeping, not for studying. 
Stick to your dedicated study space, and happy studying!